Turbo Elite 6 Burners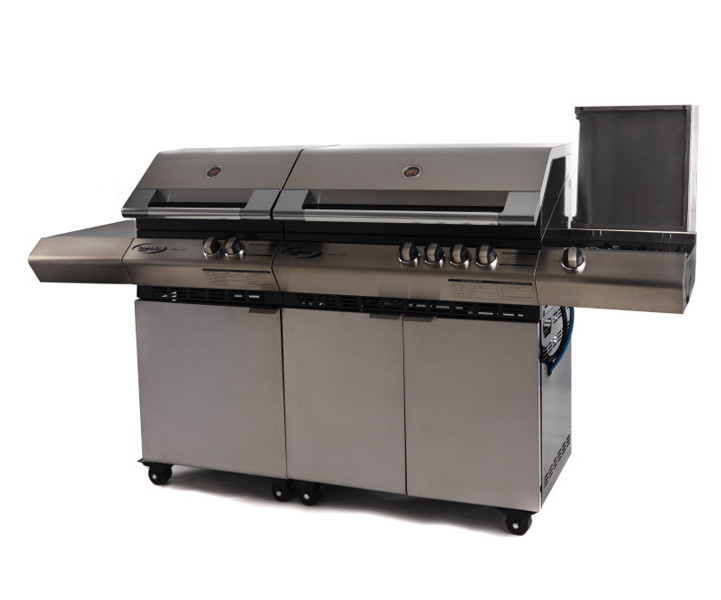 Turbo Elite a gas Gpl o metano 6 fuochi con bruciatori in ceramica e cupolino al quarzo radiante e piastre e griglie in acciaio.
Hai ancora qualche dubbio su questo prodotto? Contattaci


Per qualsiasi altra richiesta ti preghiamo di compilare il modulo Customer Care
Il barbecue a gas Turbo Elite è realizzato completamente in acciaio inox, la cappa del bbq a gas è smaltata internamente, facilitando così la pulizia e la cottura dei cibi.
La griglia e la piastra sono in acciaio inox certificate per il contatto alimentare
.
Il barbecue a gas turbo elite propone un metodo di cottura innovativo: grazie ad un bruciatore in ceramica coperto con un quarzo radiante, l'emissione di fumo si riduce al minimo, inoltre la potenza si abbassa con conseguente risparmio di gas.
Le griglie offrono uniformità di temperatura. Barbecue a gas / Barbecue a metano.
Optional Turbo Elite/Classic:
1-burner cooking hob on the side logo-CE.png (available with steel trolley).
Spit.
Entire griddle kit.
Triple-ring cooking hob logo-CE.png (available for Turbo 4 Elite andClassic with wooden trolley only).
220V electric deep-fryer with IP and logo-CE.png certification (availablefor Turbo 4 Elite and Classic with wooden trolley only).
La gamma Barbecues Turbo Elite vanta un sistema di cottura primo al mondo con tecnologia Radiante al Quarzo.
I bruciatori RQT superano enormemente le aspettative degli appassionati di barbecue e sorprendono per la loro resa.
La tecnologia RQT ha una combinazione unica di un bruciatore radiante posizionato direttamente sotto il cibo, con cupola di vetro al quarzo aumentando la potenza del calore e la capacità di cottura. L'RQT garantisce la massima efficienza nel sistema di cottura e permette di controllare e ridurre le fiammate del barbecue.
Questo risultato si ottiene grazie al cupolino al quarzo che emanando un intenso calore, tende a vaporizzare i grassi invece di "incendiarli". In aggiunta a questo la gamma barbecue Turbo permette agli utenti di controllare i bruciatori infrarossi e di distribuire una temperatura uniforme su tutta la superficie di cottura (senza punti freddi). Queste rivoluzionarie innovazioni permetteranno al vostro prossimo barbecue di grigliare alla perfezione anche gli alimenti (cibi) più grassi.
In aggiunta, una delle caratteristiche della serie Turbo è la cappa forno a doppia camera. Questa ha un doppio isolamento con conseguente controllo e doppia tenuta del calore.
La superficie di cottura si scalda più velocemente con un minor dispendio di gas.
"Un'impronta di stile, qualità e lavorazione, abbinata a caratteristiche intelligenti....Chiaramente il risultato del lavoro di un vero amante del Barbecue".